Mint, promotional chewing gum - Produced in Czech Republic.
Promotional chewing gum is a unique candy with a promotional print on the wrapper. We offer you different types, different flavours, for different occasions. Our chewing gums are made from 100% natural ingredients and are very tasty. Enjoy our promotional chewing gum and mints that are perfect for all your events. Enjoy high quality candy and gum at a great price.
delivery 14 days
146,67 €
excl. VAT
(0,14 €/pcs)
177,47 €
incl. VAT
delivery 14 days
155,56 €
excl. VAT
(0,15 €/pcs)
188,23 €
incl. VAT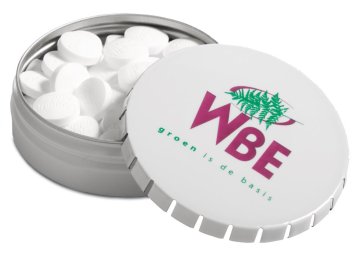 Promotional mints are a popular and effective way for businesses to market their brands. Not only are they a tasty treat, but they also offer a range of benefits for both the business and the customer.