Promotional biscuits in gift packaging with individual printing or logo - Digital print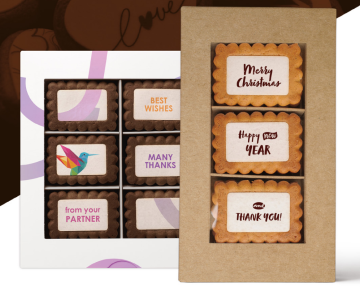 Hi quality promotional cookies and gingerbread are the ideal gift for any occasion. A gift pack of quality promotional biscuits is a highly desirable and attractive promotional attention. We assemble promotional biscuit gift packs from different types of promotional gingerbread and biscuits. The sizes and numbers of promotional cookies may vary in the promotional pack. A great advantage of the gift pack of promotional biscuits is the possibility of individual full-colour printing of the gift pack packaging.
Thanks to the possibility of promotional packaging printing, the gift pack of quality promotional biscuits and gingerbread is an ideal promotional gift, attention. At sweet-promo.eu we have a wide range of different types of cookies and gingerbread, from classic to modern, and including different flavours. In a very wide range we also have cookies and gingerbread for different occasions such as holidays, birthdays, celebrations and more. You can choose the ones that best suit your ideas, taste or corporate needs.
delivery 3 - 4 weeks
1 119 €
excl. VAT
(4,47 €/pcs)
1 353,99 €
incl. VAT
delivery 3 - 4 weeks
594 €
excl. VAT
(2,37 €/pcs)
718,74 €
incl. VAT
delivery 3 - 4 weeks
446,67 €
excl. VAT
(1,78 €/pcs)
540,47 €
incl. VAT