Printed Advent calendars - Own shape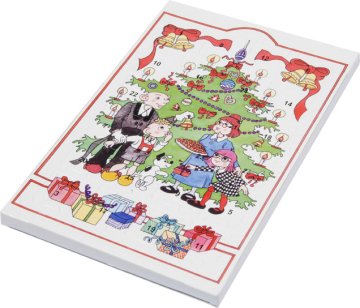 Advent calendars have gained popularity and interest in them is growing. Everyone is happy to receive an Advent calendar as a gift before Christmas. Under the 24 windows you will discover a little surprise that will make the Advent time more pleasant. Advent calendars are usually filled with chocolate, but they can also contain small biscuits, sweets and jellies in bags, packed teas of different flavours, etc.
Chocolate advent calendars will delight you with delicious chocolate in all shapes and flavours. In the shop you can choose advent calendars with regular milk, dark and white chocolate, as well as famous branded chocolates such as Lindt Lindor and Ritter Sport. 
You can customize the cover of the advent calendar to your own needs. Not only the attractive advertising print, but also the paper shape of the calendar itself will attract the attention of your customers and business partners. You can choose Advent calendars in the shape of a car, a house, a tower, a pyramid, round or square... or you can invent your own shape. The range of advent calendars is really varied. Here you will find the best-selling types, but feel free to contact us with any of your ideas for an advent calendar or other Christmas sweets.
delivery 3 - 5 weeks
1 184,89 €
excl. VAT
(11,84 €/pcs)
1 433,72 €
incl. VAT
delivery 3 - 5 weeks
3 011,56 €
excl. VAT
(15,05 €/pcs)
3 643,99 €
incl. VAT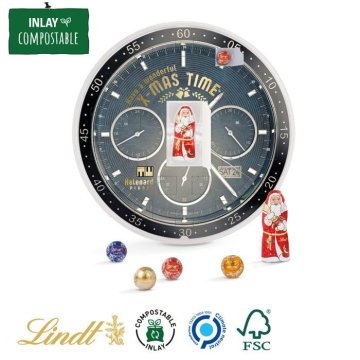 Today there is a wide range of Advent calendars that offer different types of content and types of cover, including custom printing. This allows you to procure a calendar that matches your preferences and interests.