Promotional jellies and gummy candies for joy and health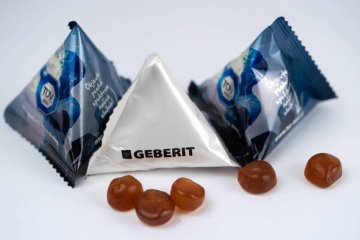 Fruit jelly for health
Jelly promotional gummy candy shapes are a delightful and popular treat for people of all ages. Children love the sweet and delicious taste of fruit jellies, while adults appreciate their potential health benefits. For example, gummy bears enriched with collagen are believed to help rejuvenate the skin and maintain its elasticity. Additionally, fruit jellies often contain vitamins, making them a desirable choice for those looking to nourish their bodies.
Those who are looking for completely healthy gelatin candies will be happy to choose sugar free jelly. Vegan jelly and vegetarian jelly are also produced. So there is something for everyone.
Promotional fruit jelly from 1,000 pieces!
Added nutritional supplements, decreased sugar, organic, vegan, or any of these.
Promotional jellies for various occasions
These versatile fruit jellies are perfect for various occasions. Throughout the year, they make excellent gifts for children, employees, business partners, clients, or customers. Unlike chocolates, pralines, or iced biscuits, you don't have to worry about them melting on hot summer days. Moreover, you can find special shapes and mixes for festive occasions like Christmas and Easter. Whether it's Santa Claus shapes, comets, presents, or spring motifs like rabbits and eggs, you can tailor the jelly candy to suit the season or your specific business needs.
You will always make people happy and draw attention, whether you have gummy candy ready for planned social and commercial events or are available at any time at the reception for incoming guests.
Gummy candy with original and attractive packaging
To make the gummy sweets even more appealing, they come with attractive packaging options. Children love the convenience of small bags, which can be easily carried around or given as gifts at events and gatherings. These bags come in traditional square or rectangular shapes, as well as unique pyramid shapes.
The generous surface area of the bag provides ample space for eye-catching prints featuring your company logo, slogan, contact details, or any other promotional message. By aligning the design with your company colors or the theme of an event, you can create a memorable advertisement that captures everyone's attention.